Just finished a new painting that's heading right out the door for the B-Horror Group Art Show at New York's MF Gallery.
Here's the painting "Beware the Tall Man":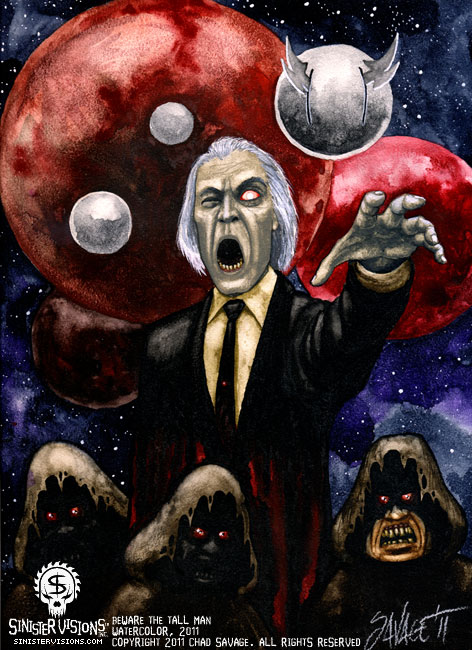 And here's some information about the show:
B-HORROR Group Art Show at MF Gallery
Opening Party Saturday May 14th 7-10pm
Lawrence Van Abbema, Bill Blood, Daniel Caspera, Nathaniel Groppe, Kirsten Flaherty, Annie Hunter, Drew Maillard, Greg Maillard, Michael Nirenberg, Angel "Mud" Perez, Lou Rusconi, Martina Secondo Russo, Frank Russo, Chad Savage, Scarecrowoven, Dan Scheckler, FX Tobin, & More..
MF Gallery:
213 Bond St. (b/w Butler & Baltic) Brooklyn, NY 11217
917)446-8681 info@MFgallery.net

Horror is a popular genre because it helps us come to terms with the darker side of human nature. But the films represented in this art show were not always appreciated by the general public; most were made on a shoestring budget and some were even completely shunned by the mass media. However, thanks to their uniqueness and creativity, these B-Movies have developed a strong following in the outsider subculture.
The Texas Chainsaw Massacre, Demons, Evil Dead, Frankenhooker, Street Trash, Deranged, Basket Case, Mother's Day, Astrozombies, Hobo With A Shotgun, Dead Alive, Squirm, The Stuff, Maniac, Dr. Butcher… These are just some of the movies in the B/Underground Genre that inspire us to create our most horrific artworks.
Join MF Gallery and a slew of horror enthusiasts, as we pay tribute to our favorite movies through drawings, paintings, sculptures, and other works of art.
At the Opening Party on Saturday May 14th from 7 to 10pm, MF Gallery will be projecting a selection of our favorite Horror Movies of all time, accompanied by a Heavy Metal soundtrack. Refreshments will be served. Admission is Free and open to all ages.
"B-Horror" will be on view at MF Gallery until June 18, 2011, by appointment only. Contact Martina or Frank at (917)446-8681 or email: info@MFgallery.net to make an appointment to see the show. All of the art will also be available for viewing and purchasing online at: www.MFgallery.net
MF Gallery is located at 213 Bond Street, between Butler and Baltic Streets in the Gowanus area of Brooklyn, NY. Take the A or G to Hoyt/ Schermerhorn, (Exit at Schermerhorn and Bond. Walk South on Bond for 8 blocks.) the F or G to Bergen, (Exit at Bergen and Smith, walk 2 blocks east on Bergen. Turn right on Bond. Walk south on Bond for 3 blocks.) or the R to Union. (Exit at Union and 4th ave. Walk west on Union for 3 blocks. Turn Right on Bond. Walk North on Bond for 4 blocks.
For more information, appointments, to request high resolution images or to set up interviews, please contact Martina Secondo Russo at info@MFgallery.net or (917)446-8681.